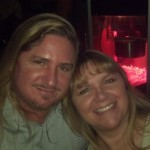 My first "real" business venture started with a video arcade in the early 90′s called XLR8 Video Arcade.  It was a little place in a small strip center.  I concentrated on atmosphere; black lights, goth type music, that sort of stuff and it quickly grew to where it was reaching maximum capacity every weekend.  I opened another location and there was no going back to the typical job market after that.  I went on to open 10 more companies; from shopping center locations, retail stores in the mall, to multi-million dollar stand alone locations.  I had a Real Estate License for a while and even was a Mortgage loan Officer at one time.  When it comes to starting businesses, I definitely have a lot of experience.
Now-a-days I mainly manage a personal portfolio that specializes in Peer to Peer Lending.  However the bulk of my time is spending it with my beautiful wife as we grow and see this world together forever and always.
My past Companies:
Lawn Pro
Texas Race Promotions
XLR8 Video Arcade
Gamer's Guild
Dark Moon Enterprises, Inc.
Gamer's Guild & Anime World
The Gaming Center
JP Investments
O'Malley's Bar
Black Lotus Enterprises, Inc.
Mystic Sky Productions
JD Investment, Inc.
I built this website to help enrich my life as well as others and hopefully pass on some knowledge that may help someone to achieve a greater understanding of this world. So, get that cup of coffee, sit back, and start clicking through the site.  I am sure you will find many  informative and wonderful articles to stimulate your imagination and hopefully discover many ways to help you on your road to becoming a more enriched person or perhaps  add a little money to the coffers and put a smile on your face.
If you are interested in being a part of an Intentional Community, then come check out Amberwood Falls, it is a place of new beginnings.
As always, I wish you the best,
John Howard