John and Jennifer's Road Trip
Corpus Christi, TX – Dallas, TX
June 1-3, 2012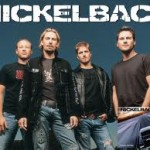 Jennifer had purchased a couple of tickets to see Nickleback perform in Dallas, TX just before we had gotten together as a couple.  As the date approached, we tried to sell them in hopes of getting some of her money back.  We didn't think we would be able to go and thought selling the tickets would be our best option.  However, we couldn't sell the tickets and decided, wth, let's just make a road trip out of it.  Our thought was to leave around midnight on Thursday and be in Dallas around 7 or 8 in the morning. However, around 1am I started working on building a play list for Jennifer's Zune Music Player, which we can integrate with the car and listen to on the road.  Then I discovered a website that will convert YouTube files into a MP3 format for free! The site is FLVTO, I mean seriously, any YouTube music video converted to MP3, I was blown away! Lol, so around 6 hours later, after staying up all night building my play list, I was finally ready to go.
I, of course, drove the whole way.  We stopped to refuel somewhere outside of Austin where a subway was attached to the gas station and Jennifer wanted to try their pizza.  It wasn't too bad for a pizza made from a sandwich shop. Nothing you would want to really go out and get, but if you found yourself in a Subway and didn't want the norm, well, it was edible.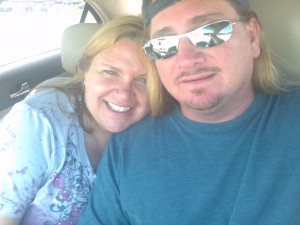 Afterwards, we pulled into a Graham Central Station parking lot and I thought I would take a nap.  The lot was empty and huge, but I managed to park under a small tree for some shade.  I kept the car running for the A.C. and well, one thing led to another and soon it became an afternoon delight!  After that, we fell asleep in the parking lot for about 30 minutes.
Below is a video of the road trip part of our adventure
Friday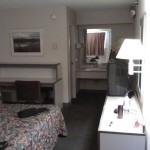 Knights Inn Market Center – 1550 Empire Central, Dallas TX
We finally made it to Dallas around 3pm or so and checked in. We stayed at Knights Inn Market Center and it was the first times I have said, "this is horrible" about a motel room.  The place did offer WiFi, so that was good.  The bed seemed okay enough, but the mold in the bathroom, that was just something I wasn't used too.  This was a very basic room, meaning, no coffee maker, no little frig, no microwave, no iron, basically if it wasn't a bed or a desk this room didn't have it.
After Jenn and I christened the room, we passed out on the bed.  We woke around 9pm, took a shower, but by the time we were ready to head out the concert was over, lol.  We were wide awake and decided to head out and see what the town had to offer on a Friday night.
The Fan Sports Lounge – 2990 Olive Street, Dallas TX
Our first stop was to The Fan Sports Lounge.  It was pretty dead on a Friday night.  It looked really nice though and had a decent bar food menu, but there were more people staffed than actual customers in the place.  A pint of beer cost us $4 a piece, so it was somewhat pricey for what we usually pay in Corpus Christi, TX and we asked for the beers dressed with salt and lime, but the bartender didn't do it.  Service was pretty poor as our beers went empty and no one waited on us.  They even had nice looking servers, but the one working our area was sitting at a table talking with a group of guys.  We decided to go find another place.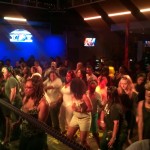 Sue Ellen's – Throckmorton Street, behind JR's
After our sad experience with The Fan, we headed out in search of a lesbian bar called Sue Ellen's on Throckmorton street off of Cedar Springs Rd. If you are not local this place is not that easy to find.  The entrance is behind JR's on a side street and there is no sign above the door.  We got there after 10pm on a Friday so the cover charge was $6 a piece.  This place is awesome! It is two floors and if you are a guy, the place can be packed, but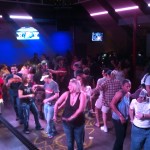 there is no waiting to use the rest room, lol.  They also have free popcorn, which for me, makes any bar special.  We ordered a pitcher of beer $8.50 and sat at a table that was raised so we could watch the people dance.  Jennifer and I had a great time and if you are looking or have never experienced a lesbian bar, then treat yourself and check this place out.   As 2am rolled around, there was no urgency to get out.  The staff picked up the drinks as you finished;  ours was picked up at 2:08am.  The music kept going and people kept dancing.  Around 2:45am, the place finally began to clear out and we were getting hungry so we headed out.
Below is a Video of the dance floor at Sue Ellen's
After 2am, Sue Ellen's picked up the drinks, but the party kept going:
Mr. Panda's – 3917 Cedar Springs Rd, Dallas TX
At 3am, Cedar Springs Strip was still packed with people.  Clubs were still letting people in and there were a couple of food places open.  We decided to eat at Mr. Panda's. They had a full Chinese menu and we ordered Sweet & Sour chicken.  The place was very nice and a little dark.  The atmosphere was interesting because of the club music coming through the walls from next door.  Overall, the food was okay.  The experience for us was great because our city of Corpus Christi, TX only has a couple of late night options available.
Saturday
El Fenix - 1601 McKinney, Dallas TX
The next "morning" we decided on Mexican food.  We headed over to try El Fenix located downtown.  There were over 20 El Fenix restaurants in the area, but we had read a review that stated they had really good sour cream chicken enchiladas.  However, when we got there and saw some nacho's with guacamole and that being one of our favorite foods, we had to order those first.  They were really good and we would highly recommend them.  As for the enchiladas, well, they were good, but nothing I would go out of my way for.  Overall, the experience was nice.  The cost of the meal was pretty inexpensive, only $12.94 + $3.00 tip = $15.94.
Wasabi Sushi & Grill – 2110 W. Eldorado Pkwy Suite #160, McKinney TX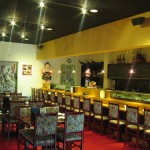 For dinner we were meeting up with one of Jennifer's cousins, Becki, and her husband John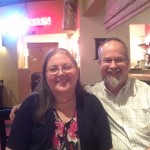 (pictured left).  We drove out to McKinney, TX and met them at a sushi bar called Wasabi Sushi & Grill  and it was OMG good, it had the best sushi we have ever tasted If you are anywhere near this place and you like sushi, then treat yourself to this experience.  We enjoyed the great company and closed this place down.  Eventually we had to say goodbye and head back to Dallas.
Across the Street Bar – 5625 Yale Blvd, Dallas TX
We started checking online to see which bar we would visit this night.  We decided on a place called Across the Street Bar. Now, first off it was a hot night and this place was an open air bar, meaning no A.C.  It is a college bar and was packed this Saturday night with a live band playing outside.  It seemed like it would have been fun, but it was just too hot for us, so we left; didn't even order a drink.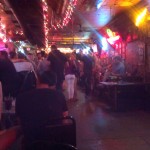 Adair's Saloon – 2624 Commerce St., Dallas, TX
We decided to head down to the Deep Ellum district in Dallas and go to small dive bar called Adair's Saloon.  This little place was great! There was no cover and a live band was playing. However, the sound level was not blaring and you could easily have a conversation.  One of the first things Jennifer and I noticed was there was a lot of hot women here.  It was just so odd.  Here was this little dive bar in Deep Ellum and it was filled with very attractive women.  This place also serves bar food, but we were here for the beer.  We ordered a pitcher $10 and enjoyed the music and watching the people.  Later I ordered popcorn, but it is just put into a microwave, at least they put it into another container before serving you.  If you do go and plan to stay til closing, be ready to be kicked out at 2am, so plan accordingly.
Dallas has several street vendors in different areas of the city, mostly found where the night life is.   This was a new experience for me, since the only time I had seen this was down in Mexico.  As we left Adair's, we saw this little stand and it smelled so good.  Although I usually don't eat things like this I thought maybe I should give it a try.  When I placed my order I was surprised to see the vendor actually wash her hands.  The sausage hot dog was surprisingly one of the best I had ever tasted.  Jennifer and I split one as we sat in the car watching people wander around.  This part of Deep Ellum was closing down, so we thought we would try a couple of streets over.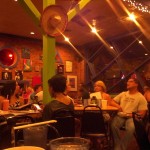 Cafe Brazil – 2815 Elm St, Dallas TX
We turned on Elm St. and this area was still packed with people at 2:15am.  We decided we wanted to get some coffee after seeing a Cafe Brazil.  We walked in and were directed to a table.  What I thought was just a coffee shop had a full menu, including 3 different ways to make Migas (the link is to a video I made of making Migas quickly many years ago), which is one of my favorite breakfast items.  We ordered Bottomless Coffee and the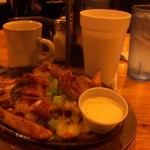 Loaded Cheese Fries (Pound of Cheese Fries with Bacon, Chives and Jalapenos) (pictured right).  The coffee was awesome. There was 7 different gourmet types to choose from and the cheese fries were extremely tasty too.  We had a great time eating and talking, it was a wonderful ending to our evening.
Sunday
I woke up and started doing my daily Morning Work on my laptop while Jennifer slept in.  Eventually I woke Jenn and she got ready for our drive back to Corpus Christi. By the time I was finished getting ready, I was running a little late for our 11am check out.
Cafe Brazil – 3847 Cedar Springs Rd
Around 11:30am we were on the road and one of the places I wanted to eat breakfast was of course Cafe Brazil.  According to Jenn's GPS talking phone, the nearest one was on Cedar Springs Rd. which was in the gay district.  Right off, you could see this one was smaller, but quaint.  As I entered I noticed it was rather warm inside, around noon the sun begins to stream in through to glass wall.  Although they have tried to tint the windows, it is no match for the blazing sun.  If you do find yourself here during a hot day, make your way to the back.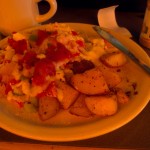 There was a little hallway on the opposite side from the entrance. At the end of the hallway was a little room with it's own A.C. Unit.  Also, although they claim to have free wifi, the signal was not strong enough to maintain a connection.  We, of course, ordered Migas and I was excited to try these.  However, when the meal came I almost laughed at the Rosemary new potatoes they served with it (pictured left).  This meal didn't taste like Mexican food at all.  The tortillas were some small store bought things I wouldn't really call torts.  Now, I will admit, the rest of the food was okay tasting, but nothing I would eat again.
We decided on the way home we would take a different route from the main highway.  After a couple of  hours of driving the back roads I started to get sleepy and we decided to get back to the main highway.   We stopped a few times for snacks and the trip back was fun and full of laughter.