Jan Hickey
(Nov 7, 1946 – Aug 23, 2012)
Obituary written by Nanci Hewitt, her daughter Kymberly, and Patti Hawkins.  Italic lettering below was what Jennifer Hawkins (Jan's daughter) and John Howard (Jennifer's fiance) decided should be added to tell the story of Jan Bottomstone.
Jan Hickey, 65, of Corpus Christi passed away peacefully at her residence on a Thursday, August 23, 2012. Jan was born on November 7, 1946 and was the second of four children born to Bert Arnold Bottomstone and Louise Genelle Black Fruge in Corpus Christi, TX. She married John Hawkins at the age of 17 and reared two wonderful children, Jason and Jennifer. John and Jan were married for 14 years.  Her second husband was Rey Arthur Trevino.   Always the hopeful romantic, she married James Hickey on November 14, 1987 and lived the majority of her life in Corpus Christi, Texas surrounded by an extended and loving family.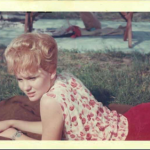 Popular and active in her youth, Jan was a beautiful homecoming queen and cheerleader who excelled in each of her art classes. Jan was talented and creative. She mastered sketching, painting, crafts, scrap booking, silk-screening, sewing and above all relished in gifting her creations to her family and friends. After finishing Carrol High School, Jan worked in the Corpus Christi Independent School District Central Office Art Division and later transferred to Menger Elementary where she served as Art Director until she retired. Jan was a proud young mother to her beautiful children.  Supportive and attentive, Jan provided a loving home, enabling her children to grow and excel throughout their active school years in athletics, dance, art and academics. Possessing a love for humanity and an artistic attention to fine details, Jan inspired her children to follow their dreams in nursing and aviation.
A loving daughter, mother, sister, wife, aunt and grandmother, Jan was cherished by all that knew her. Her grandchildren called her "Oma" and she enjoyed spending time with them at every available opportunity. Jan embraced her close relationships with each of her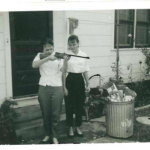 sisters. Thankful and blessed, Jan leaned on her sisters in times of need and shared years of laughter with them in times of joy. Jan, along with her sisters, could light up any room.
Jan was a member of St. Patrick Catholic Church parish and a life long supporter of the pro-life movement. Never afraid of voicing her beliefs, Jan was known to participate in pro-life rallies and public demonstrations. Jan was a proud member of the Republican Party and knew how to shoot a gun.
Jan is survived by:
Her mother:

Louise Genelle Black Fruge and her stepfather, Lloyd Fruge of Corpus Christi

Her husband:

James "Jimmy" Hickey of Corpus Christi

Her son:

Jason Lee Hawkins and wife Patti Hawkins of Plano

Her daughter:

Jennifer Karen Hawkins of Corpus Christi

Her stepsons:

Michael Hickey of Corpus Christi

James Hickey of Portland


Her sisters:

Sherry Lanphier and husband Odis Lanphier of Holly Lake Ranch

Marilyn Lanning and husband Larry Lanning of Houston

Nanci Hewitt and husband David Hewitt of Weddington, NC.

Her grandchildren:

Harrison Hawkins, Hazel Hawkins

Amanda Riddle, Mason Riddle, Brayden Riddle, John Riddle, Molly Riddle

Matthew Hickey, Michael "Mikey" Hickey, and Michaella Hickey.
Jan leaves behind many nieces, nephews, cousins, friends, colleagues, and students whose lives she touched. Jan was taken suddenly and too soon, she will be greatly missed by her family and friends.
Jan was preceded in death by her father, Bert Bottomstone, who passed away on November 21, 1996.
Jan's Entombment is at
Seaside Memorial Park
4357 Ocean Dr
Corpus Christi, TX, 78412
(361) 992-9411

The following was pulled from Seaside Memorial Page before it went down and those who emailed:

"My sincerest condolences to Jason and Jennifer and your families on the loss of your Mom. What a beautiful lady… I'm so very sorry and will lift you up in prayer during this most difficult time."
Jeanie Blankenship
"My prayers and thoughts are with Jan's family. She was such a great person. Will always remember her beautiful smile and kind ways. Sweet dreams Jan until we meet again. "
Susanne Craig – August 27
"Praying for Jim and family in your loss. Remember Jan being one who wasn't afraid to stand up for what was right!"
Dr. Keith Bellamy
Anyone may leave comments below or if you wish to be added to the list above then please click my contact page and send me an email.
———————————————————————————–
Click on any thumbnail photo below or above to enlarge it: