Business Blog
JD Sports Online Stats for yesterday:
Pic of the Day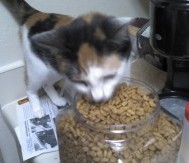 She ran out of food today and I thought I would just feed her people food, but every time I went upstairs she would beat me up to the top and run to her bowl, thinking I would feed her

Eventually at 2:30am I went to Wal-Mart and picked her up some cat food.  She couldn't want until I put it in her bowl.
Poor Callie, she was hungry…

Personal Blog
I am still watching Cheers and Accidentally on Purpose
Little Notes:
I made it to the Gym today and worked on Back.  Also, took a walk/run on the trail
I saw Elizabeth for a little bit.  We are talking more than ever and it is amazing at her transformation.  I haven't said anything because I don't want to jinks it.
Checking Netflix Instant Watch releases and adding the following to my queue
Luther – Idris Elba ("The Wire") stars in this powerful television drama as Det. John Luther, whose personal demons complicate the chase as he searches for the evidence to convict mass murderer Alice Morgan (Ruth Wilson), who is also his closest confidante. Luther's marriage to the long-suffering Zoe (Indira Varma) is equally complicated, and after she leaves him, he pours even more frenetic energy into the pursuit of London's most nefarious criminals.
According to the reviews this series is supposed to be awesome.  I guess we will see.
To view my Netflix Instant Watch feed, just click the link, keep in mind, there are 500 TV or Movies listed.
G'night and have a wonderful day or night.
Life is too short not to live long,
JD