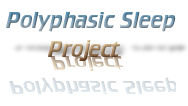 Total Sleep Time: 2hr 27 Min
2am – 18min
I was really tired before the sleep session, but now I am awake again.  The night is usually the hardest, so we shall see how it goes.
5am – 18min
I was pretty a wake, but managed to fall right to sleep.
6am  – 18min
I was extremely tired upon awaking and just couldn't shake it, so I decided to just take another nap, but as I write this I am very, very tired.  I may have to sleep again.
8am – 45 min
I turned off my timer and didn't get up.  As I type this this I keep closing my eyes, It is starting to get much harder.
9am – 18 min
Okay, I think I finally got it under control.  I feel rested for now.
11am – 18min
I was really tired going into this cycle, but I feel ready to go now.
2pm – 0min
As 2pm came I started slowing down and could feel my energy wane.  I was out and about, so I pulled into a parking lot and tried to sleep, but could not.  However, I was able to reach a very relaxed state.  After about 15 minutes, I decided it was time to continue.  I felt refreshed.
5pm – 0min
I didn't get a chance to pull over until around 6pm.  However, again, I couldn't get any sleep.  I don't know how much longer I can keep going without any sleep, but just getting a deep relaxing rest seems to be doing okay for me.
8pm – 12min
I was still out and about, so I pulled into a local Whataburger and took a nap.  This time I went right to sleep and woke up about 12 minutes later feeling refreshed and ready to go.
11pm – 18min
Finally, home and it felt so good to actually sleep comfortably.  However upon awaking I feel somewhat sleep deprived.  Almost like my brain, doesn't want to wake.  It is a weird feeling, kind of like when you can't really concentrate and you feel jumpy at everything.  That is how I feel right now.
Thus ends day four of the Polyphasic Sleep Project.
JD