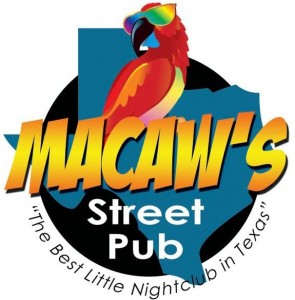 Macaws Street Pub
Address: 6410 Weber #21, Corpus Christi, TX
Hours: M-Sat: 11am – 2am
Sun: Noon – 2am
Synopsis: Macaws is a south side bar with a dance floor and stripper pole.  It is as it logo says, a little nightclub.  Although, you rarely see a crowd dancing, even on the weekends, it does have a club type feel though.
Drink Specials: Tue $2 well & $3 Star Fuckers. Thursday & Friday offer $1 well and $1 draft
Standard Prices:
BEER

Pitchers Dom: Imports:
Pints Dom: Imports:
Bottles Dom: Imports:
LIQUOR
Well:
Call:
Premium:
BOTTLE WATER: ??
Place to Charge Phone: Near the jukebox they have a power strip you can plug into.
Wi-Fi: No
Cover Charge: Monday, Wednesday, & Saturday they charge a cover charge – However, Ladies are free
Credit Cards Received: Standard, but there is a minimum charge of $10
Dress Code & Age Allowed in 18 & up: I didn't really see anything posted.  They do allow 18 and up. I believe minors are charged $10
Atmosphere: Very loud dance club type music.
Music Type – Live, DJ, Jukebox, Karaoke
Sun:
Mon:
Tue:
Wed:
Thurs:
Fri:
Sat:
Noise Levels:
Light Level:
Crowd type:
Smoking Area (What is it like):
Food Served: None
Dance Floor: Yes, complete with a stripper pole
Bathrooms:
Mens: 2 urinals and 1 stall
Womens:
Amenities (Pool, Shuffle Board, Tournaments):
Types of Seating: (Tables, bar stools)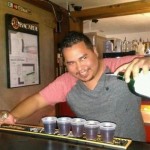 Service: Bartender Only, but I always got a drink quickly
How was it: Lino Suarez (pictured left) always takes great care of Jennifer and myself
Free Pour: This is a free pour bar so tip your bartenders well.
Personal Experience each day of the week:
Monday
Tuesday
Wednesday
Thursday
Visit #1: Tonight was $1 well and $1 Pint and we had an awesome time. Lino took care of us and I swear he has some Brittney Spears moves down.  Tonight I had Jennifer, Michelle, and Sunshine.  They were wild and a lot of fun.
Friday – Midnight count 73
Visit #1 Nov 16,2012 – Started at 10:30pm, tonight's special was $1 well and $1 draft.  The music was extremely loud and vibrated your core.  The DJ was playing a lot of Hip Hop type rap music, not really my thing.  Although there was a dance floor, no one was dancing
By 11pm the ratio of women to men was at least 3 to 1.
By midnight, although there were 73 people in here and mostly women, I decided to leave.
Saturday
Sunday
Summary of Total Experience: