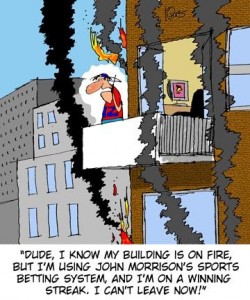 The following article is in reference to how to fund an online sports betting account as an American.  Most other countries have quick and painless methods such as MoneyBookers and the multitude of others that are similar, but what about the people that live in the "Land of the Free?"  How are we supposed to the fund an account and isn't it illegal anyway?
Two very good questions.  I will briefly touch on legality since this article is about "How to Fund" and not law.  First off, when most people say funding a Sports Betting account is illegal, they are referring to the Unlawful Internet Gaming Enforcement Act (UIGEA), which was attached at the 11th hour to the must pass legislation of the Safe Port Act, you can read more about it here.  Basically, on the federal level it is illegal for an institution to process money to fund a gambling account.  Naturally, there were exceptions, such as Horse Racing or land base casinos and so forth, however there were no clear definitions laid out, and for the first time the banking industry was deemed to be the enforcer, jury, and executioner, something they have never had to do in the past. This caused an uproar in the banking community and it meant they would have to overhaul the banking system, something they were not prepared to do and they have been fighting against the UIGEA ever since.  There is a lot of information out there on how the banking industry is against the UIGEA and I will not be coving that in this article.  Now, credit cards, had already pretty much stopped allowing gambling transaction before the UIGEA came into effect, so they didn't really need to change anything.  However, places like Neteller, quickly pulled out of the U.S. market and so did nearly every instant payment company out there.  The U.S. government did manage to seize millions of dollars and this caused a lot of chaos in the Sports Betting world for a little while.  Oh, there were still other methods to fund and withdrawal money, but most people had put them on the back burner.  Ironically, it was the banking industry itself that shined the light on provisions of the UIGEA that they could not enforce without changing the entire system and today you are seeing more and more Sports Books offer these methods of deposit and withdrawal.
Let's get a couple of things straight.  UIGEA is a law against institutions and not individuals, however there are many state laws that prohibit online Sports Betting as an individual pursuit.  For example, Washington St., it is a felony to put $5 down on your favorite NFL team online and in Texas, it is perfectly legal to bet online, as long as you do it in the privacy of your own home.  So, you need to check your own state laws for legality.  I should mention New Jersey since it is the first state to actually pass legislation legalizing and regulated online gambling.  I believe right now they are just waiting for the Governor to sign it into law.  When that happens, there will probably be a cascade effect of states passing bills for online gambling.
Okay, lets move along, we could be here all day discussing the laws and regulations of this free country of ours.  How to fund your new account.  So you signed up with Bet Phoenix and want to get their 100% bonus, but how do you it.  One way of course is to just contact them and they will give you options, but surprisingly, one of the easiest ways to fund the account is not mentioned; or if it is listed, it is not called by it's actual name.  I am talking about Money Gram or Western Union.  Usually, they try and steer you to Gold Pay or some ewallet and the funny part is, these ewallets, usually want you to fund them through MG or WU, so why not just tell you to use MG or WU directly.  Well, I would guess because like most places, there are affiliate programs that your new Sports Book is signed up with to get a little something back.  Whatever the case my be I just always ask for MG information or bank wires if the amount to deposit is over $5K.  Yes, I know, it seems strange, fund an account with a bank wire, but that is one of the holes in the system.  Another is the ACH system, you are beginning to see more an more books offer instant deposits and such because the only way to change the ACH system to comply with the UIGEA is to change it globally and no way, for example, will the UK, where gambling is perfectly legal, change their entire banking system for some yanks.  So, my favorite ways are ACH, MG, WU, or bank wire.   I do not bother with Gold Pay or ewallets, because all have some type of fees attached.  Of course when making a deposit to your book, they will refund your fees, if you deposit at least $200 at most books.  The problem is when you withdrawal.  That can be a major hassle and expensive via ewallets.  You might be thinking about checks for deposits and yes, you can, but it is just not worth the aggravation.  I, like most of you probably, was a little scared in the beginning, I didn't know much about funding an account and thought I would try with a check.  First, I had to wait for the book to receive the check.  Then I had to wait for the check to clear.  Days past before I was able to actually use the funds and swore I would never use that method of deposit again.  So, save yourself some aggravation and just go with one of the instant routes: MG or WU or ACH.
MG or WU:
These deposit and withdrawal methods are usually called Person to Person.  I guess coming right out and labeling them by their full actual name is not something they want to risk.  lol, even I am using MG or WU because, I don't know, the books don't like to use their real names so I will follow their example.  There is a pretty big difference in fees.  MG is under $10 at your local Wal-Mart and WU can run into the $100s in fees for deposits.  Of course your book will refund your fees, but come on paying $70 in fees for same transaction that costs $10 at MG, forget it, I always use MG over WU.  Now, what happens if you want to deposit over $900 and the clerk is asking for your Drivers License or Identification card, not a problem, I always give it with a smile.  What happen when you hit around $2500 or where ever that level is and they need your social security number.  No, problem, just give it with a smile.  However, nearly every time, your book will just break up the deposits into smaller amounts so you will not be asked for a social.  Now this next part is very important.  Make sure you double check everything, the name is spelled correctly, it is going to the right country, and it is being delivered in US Dollars.  The easiest way to know it is in US dollars, is the currency exchange rate will be listed as 1.00.  I can not stress this enough, more times than not, there is an error on the clerks' side.  Nothing to get upset about, they can correct it there.  So make sure you check.  If you discover this error when you get back home you will then need to contact MG and they will play 20 questions with you.  Like do you know the person you are sending money to and so on.  This is actually just so they can tell you at the end, that because you do not know the person MG will not be able to guarantee the money if you are sending it to the wrong person and so on.  It is all not really a big deal, but it will take a lot of time sometimes to straighten out.  So, save yourself some aggravation and correct the problem before it gets to this stage.  One more thing, every name I have sent to is in the following format: First Name, Last Name, and 2nd Last Name.  I know it seems strange for us Americans, but that is the format.  Once you have made your MG deposit, contact your book and give them your control number, the amount of the deposit, the fees, the person you sent it to, and the country it was sent to.  In some cases your money will be credited in less than 10 minutes.  Every book is different and if you did this in the middle of the night, it might take until the next morning.  However, if you call from Wal-mart it is usually credited by the time you get home.  I usually just go online and give them information via live chat.  MG or WU is fast and cheap and is my personal favorite method, well except ACH, but you don't see too many of them yet, but more and more books are heading in that direction.
ACH:
This is usually labeled instant deposit or withdrawal.  Now, sometimes ewallets such as gold pay or neteller are called instant deposits, but they will be labeled by their actual name.  If you see a deposit method labeled instant deposit it is usually, now, referring to the ACH system.  So, how fast is the ACH system, about one to two days.  It is a wonderful method of withdrawal when you don't need the money that day.  You just enter your routing number and account number from your bank and everything will be processed fairly quickly.  As you can see, you want to make sure you are using only high caliber, trustworthy books for these type of transactions.  However, I will use this method first if it offered.
BANKWIRES:
I have used a few bankwires, but they are kind of pain.  There is a lot of information to fill out and if there is a mistake it could take months to track down, or so I have been told by the books and have read horror stories about bankwires gone missing.  Personally, mine have all went through fairly smoothly.  The only problem I have had was on my first one, I was dealing with a teller that really wasn't familiar with them.  They had to call a branch manager that was out to lunch and so on, took nearly the whole day to finally get it done.   Then I had to wait 24hrs for it to register at the books bank and then more time for them to credit it.  So, the whole process took about 48 hrs.   So, my suggestion is make sure you deal with a knowledgeable person.
CHECKS:
I personally just don't like them.  I already mentioned the issues with using them as a deposit but many things can go wrong when depositing them in your own bank accounts.  They can bounce, since most books use a third party processing company for checks, that processing company may have to close an account quickly or a multitude of reasons can happen and you have a bounced check on your hands.  Not a pretty picture, fees start to pile up, and for this reason, many banks will tell you it can takes weeks for the check to clear.  However, sometimes a few weeks have past and your bank "clears" the check only to discover, oops, they cleared it too early.  They just followed there personal deadline, but actually the account was closed.  So, a month passes and your money is removed from your account for a bounced check.  It can be a nightmare.  Here is a little trick though to greatly increase your chances of having a good check and getting the money from it quickly.  I discovered this on my first deposit to a small bank.  The teller told me it would take 3 months to clear.  I was thinking that is crazy, but I didn't really need the money, so okay whatever.  I started to leave the bank and another teller called out to me.  She said, "Please wait." and got on her phone to call someone, now you can imagine, my heart is pounding.  I may not be breaking any laws, but still it is hard to believe when we have been told over and over it is illegal, furthermore, whether it is legal or not, that still wouldn't stop an uninformed law enforcement officer from arresting you.  The Department of Jutice does it all the time.   Arrests, confiscates and then the courts say, what are doing, this guy didn't do anything wrong and the DoJ's response is oops, sorry.  In the mean time you have to pick up the pieces of your life.  Okay, so all this flashes through my, remember this is my first time depositing to a small bank.  I walk back over to a different teller, she is on the phone and I can now hear her.  She is saying, "yes… okay.. alright"  She's writing things down.  She hangs up and says, "Okay, the funds will clear by tomorrow."  By this time my eyes were wide and I had to think for a moment for her words to register.  I smiled big and thanked her and asked what did she do.  She informed me that the check had a US agent listed on it.  She showed me and in small print was a US number and a bank.  Although, it was an international check, it had an agent so she was able to contact that person directly and confirm the funds.  So, score one for small town customer service.

  However, I really do not like this method of withdrawals and will use one of the other methods.  However, sometimes it will be the only method allowed.  If this is the case, I always request they use a courier with a tracking number and once I get the check I always look for the agent and mention the agent to the teller when making the deposit.
So, those are the methods I like to use to fund accounts.  I hope I was able to pass on some useful information and if you have any questions, feel free to ask them, either in the comments section below or the contact us form to the right.  Oh and don't forget to thank our advertisers by checking out what they have to offer if something catches your eye.
Best of luck on your journey to becoming a Professional Sports Bettor and remember, play smart,
JD