Migas is one of my favorite breakfast foods, so much so, that one of the first thing I did when I moved to Bay City was go to every single Mexican food place or anyplace that claimed to sale migas in any form.  Taco, taquitos, straight up, or with ranchero sauce, I tried them all.  Some places didn't even know what it was and when I explained it, they made it, some of the worse I have ever had.  lol… Lesson one, if ya have to explain it to the cook, then forget it.
So, if you come to Bay City, TX the number one place to eat a Migas Breakfast Taco is Esperanza's.  It is by far the best and is most consistent.  Only a couple of times have I gone in where they were just okay, they are usually exceptional.
Esperanza's
3301 Avenue F
Bay City, TX 77414-7107
(979) 323-7744
The migas I made in the video below will beat out nearly every restaurant in town and I will be showing the quick method.  The long method, using homemade tortillas and corn chips, will rival Esperanza's but that is for another time.
Ingredients
1 flour tortilla
1 egg
1 tbs of oil
chopped onions
half a tostada chip (or corn tortilla cut up and fried)
some cilantro
2 tbs of salsa (or picante sauce)
2 tsp of cumin
1 tbs of garlic salt
Step 1:
Heat the pan on medium heat and add the flour tortilla, flipping it often to reduce chance of burning it. Once it begins to brown, remove from pan.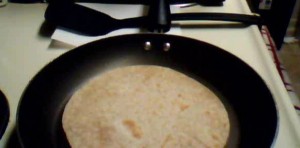 Step 2:
Reduce heat to between Medium and Medium low and add oil, then chopped onions.  Cook for about 2 minutes, mixing occasionally.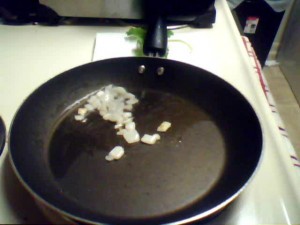 Step 3:
Add corn chips and cook for 1 minute, stirring occasionally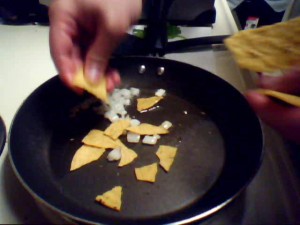 Step 4:
Increase heat to Medium and add egg and mix
then add cilantro and mix together
then add salsa and mix together
then add cumin and garlic salt and mix together
Step 5:
Once it looks cooked, turn off heat and put migas on flour tortilla.  Next fold the tortilla and place back in pan to help warm it up some, flipping once.  After about 30 seconds on both sides remove and serve.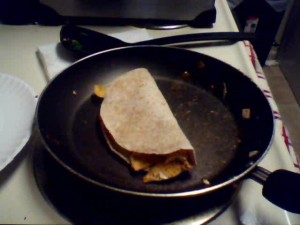 I usually add a little more salsa or picante sauce at this time as-well-as garlic salt.
Enjoy,
JD