Business Blog:
Did you see this released today by Amazon. Amazon Prime now includes Instant Videos. Over 5000 to watch via their Instant Watch program for only $79 a year. That comes to $6.58 a month!! Here is a click-able picture of the announcement. It will take you directly to the announcement: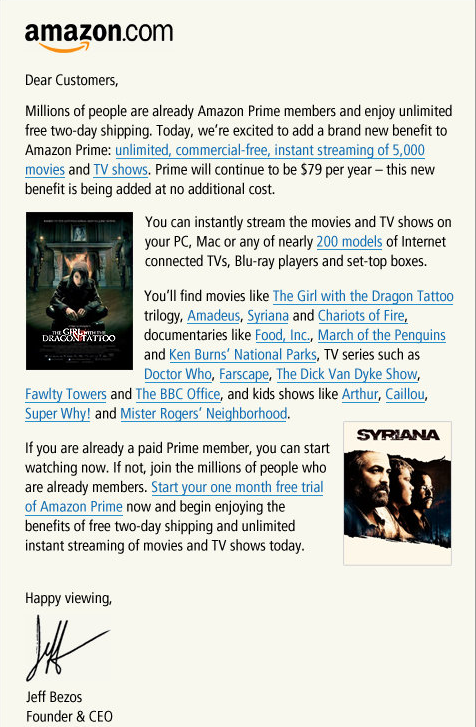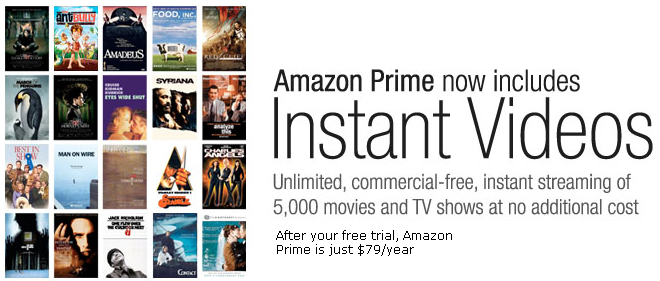 Now I might add that Netflix had that 5000 Movie & TV mark that Amazon Prime is advertising in 2008 and now it is 2011, so… Also, you can use Amazon Prime on the Roku device.
Today something not happy happened and I hope you read this and take action so it doesn't happen to your site. Elizabeth called me up and asked if I had done anything different to the site… lol… laughing because I am always doing something with it.  Anyway she went on to say all of a sudden Norton security wasn't allowing her on the site.  Saying it was unsafe.  WTH!! So while I had her on the phone she recreated what was going on.  Turns out the feed I had at Feedburner was using feedproxy or proxyfeed, whatever it is called.  Anyway, over on the right I have my latest articles listed at there on this proxyfeed site of Feedburner.  I immediately switched it back to my local feed instead of hosting it at Feedburner and see could now access my site without any issues.  So, if you are pointing feeds to Feedburner, check them and make sure they are not using that proxyfeed other wise you will be losing traffic and not realizing it.  I explain in more detail in the audio version below.
I made a Video for the Free Picks – Explained page and that link will take you to it.
I added End User latest blogs to the site, not only because they are an Amazon blog, but because they actually have some cool articles.  So, check them out on the sidebar if ya get the chance.  I also started adding some carousel widgets to the site.  I like them for some reason

To hear an Audio version on this blog entry push the play button above
Personal Blog:
Today I overslept.  I don't even know what really happen, but for the day I got way too much sleep, just under 7 hours for the day.  Anyway you can read more about it here Polyphasic Sleep Day 28. So, I didn't keep a lot of fun stuff done.  Oops, I just remembered I have to do some laundry. Guess I will do that after my 3am nap as it is 2:30am right now.
I didn't get to watch any 24:Season 8 yesterday, however today I plan to gorge myself on pizza, beer and have a little solo party.  I have been craving pizza all day and night and soon, very soon I will be eating some.  I just need to finish this and take my nap and what do you know I am finished.  Oh, wait, I need to make the audio version.
Well guys, I am heading out. All project pages are done and it is time for pizza and beer, oh yeah baby!
Good night and sweet dreams,
JD